I'm not sure how many will get the post title reference to the song in
Seven Brides for Seven Brothers
, but it is finally spring in Washington. Which means one or two days of sunshine, followed by at least a week straight of rain and cloudy skies. Like most people who have lived through many a Northwest Winter, Spring still feels like a change in 4 ways:
1. The sun is setting closer to 8 pm than 4 pm, and rising by 6 am instead of 8:30 am. The extended hours of daylight, even when filtered by clouds and rain, are having a positive effect on my sleep cycle.
2. The local flora and fauna are blooming and making themselves busy with life. Many of us are enjoying flowers and planting vegetables.
3. The temperatures are rising ever so slightly. The difference between a high 30's and low 50's average might sound like very little to people from warmer climes. For us it means there is no risk of overnight frost or (knock on wood) snow. Additionally, rain is a lot easier to bear when its 48* as it falls instead of 34*. That's the difference between a bulky winter coat and a light, hooded jacket. which brings me to the fourth way Spring changes things in the Northwest.
4. Fashion. Okay, okay. So everything you've heard about the Northwest being a very casual and somewhat homogeneous fashion setting is pretty much true.Yes, it seems that we are an eternal sea of jeans, flannel, fleece zip-ups, Hunter boots and Chuck Taylors as gray-green and enshrouding as the waters of the Puget Sound. However, you do tend to see more bright spots/ variance in the warmer months.
This week I visited the Tulip Festival in Skagit County with my mom and youngest sister. I usually go every other year. We enjoyed lunch in La Conner, then visited some formal gardens and the tulip fields. We were lucky to have some nice sunny weather.
I'm looking forward to Easter this Sunday. Obviously it is the
most
important observance and foundational aspect of my faith to remember celebrate each year. In addition, I always feel that while the scientific beginning of spring is the equinox on March 20th, the cultural beginning of spring is Easter. Mostly because I believe that this is a day when we come together, regardless of religious affiliation, and celebrate the season.We acknowledge the symbols of youth, new life, and rebirth in eggs, bunnies, flowers and the like, celebrating their simultaneous beauty and brevity. I feel that we as a culture have lost touch with these kinds of communal traditions as we have transitioned from agriculture and manufacturing to an economy entirely based on the consumption of goods for which we take no part in the process of production. The few chances we have to celebrate as a community, while they have become increasingly commercialized, are important to maintain and hopefully to re-appropriate.
Click icon to follow link to Lucky Lucille.
I have of course waited until the last minute to get anything started for the Sew for Victory challenge at Lucky Lucille. And I was hoping to get something done in time to wear to church and brunch on Easter Sunday. As a result I have decided I will make a dress instead of the blouse and two skirts I had planned. I am still going to use Simplicity 1590, which is a 1940's reprint, for the bodice. Instead of the peplum indicated on the blouse design, I will attach a simple 1940's style dirndl skirt.
I'm aiming for something like this:
The collar on this dress is a great detail. The cap-sleeve of the dress on the left is very similar to Simplicity 1590.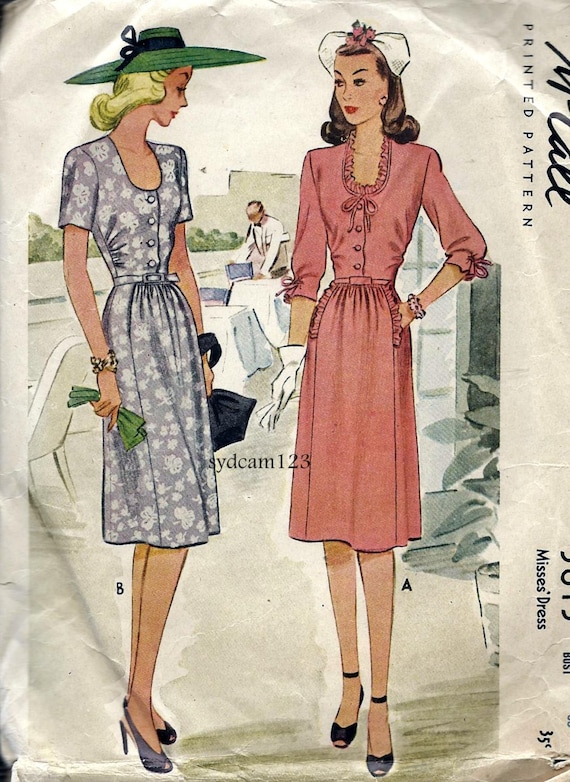 The blue floral pattern of the dress on the left reminded me of the fabric I am using.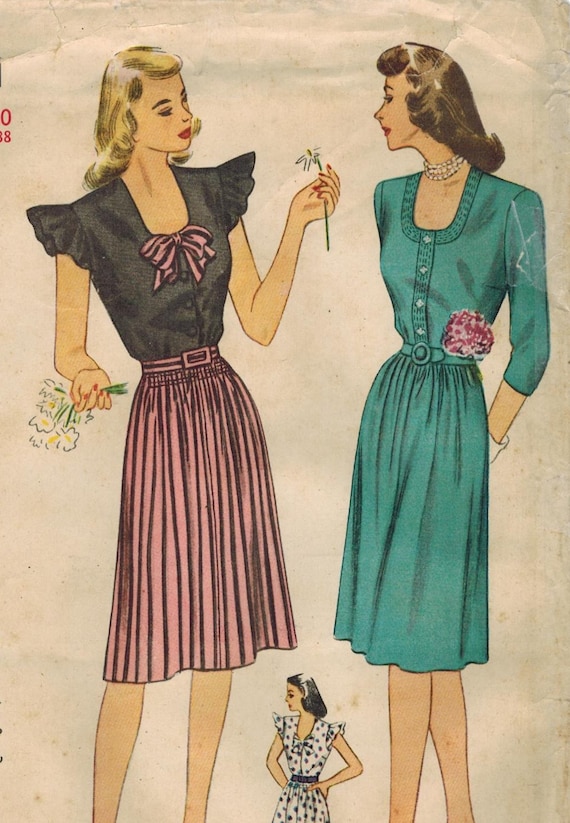 I love the flutter sleeve on the dress on the left. I don't want to take the time to figure out how to add this in but will keep it in mind for future projects. I feel like the shape of the skirt in this drawing is closest to what I will be doing. I also like the self belt on all three of these pattern drawings, but I am not sure I will be able to find the materials for making a fabric belt in time.
So I have three days to make that dress before Easter, if I'm going to be able to wear it for that. Hopefully I will be able to get it done on time.
Is anyone else wearing handmade for Easter? Comment and link if so.